Royal Chain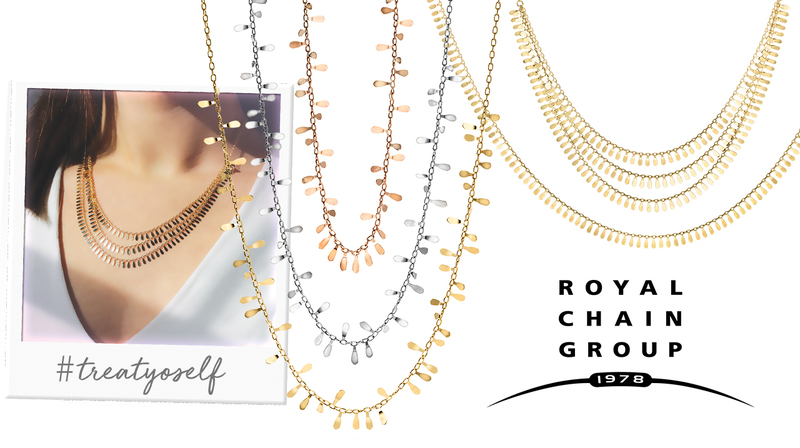 As solidly linked as the name implies, Royal Chain Group is a third generation manufacturer and distributor of precious and alternative metal jewelry. What started as a basic chain company with humble beginnings in the 1970's has grown to become the industry's leading designer, manufacturer and importer of precious and alternative metal jewelry. Our in-depth collections include gold and sterling silver, a diverse offering of basic and fashion jewelry, and some of the strongest, coordinated branded jewelry programs in the industry. All the gold and silver jewelry your store needs to compete and profit... and all under one roof.
Paul Maroof founded the Royal Chain Group in 1978. Under his meticulous leadership, he developed his family owned business bringing in his son and daughter as they work diligently together to run, develop, and grow the Royal Chain Group. Mr. Maroof maintains a personal involvement in everything that the Royal Chain Group represents. This commitment has made him the pre-eminent importer of quality jewelry among all retailers.
The company¹s major brands include:
• Phillip Gavriel, one of the country¹s hottest designer lines executed beautifully in sterling silver,18k gold and precious stones.
• Intuitions, meant to be worn alone or stacked together for a smart, contemporary look, they're a great self-purchase or as a gift for family or friends. Intuitions are made of stainless steel and come in two styles – standard cuff or friendship — and fit practically any wrist.
• Angelica, over 1300 adjustable bracelets with charms that are expressions of the mind, heart and soul. All made from recycled metals.
The Royal Chain Group's priority has always been its customer service. Their staffs of highly skilled customer service representatives are there to accommodate every request with care, courtesy, and reliability. They believe that a company is only as good as the people who represent it. We welcome you to become part of the Royal Chain Group.