Policies
Layway:
We offer a 30/60/90 day Layaway Plan for any item you desire. We do require an initial 20% deposit of the total purchase, (including tax). The payments thereafter may be made at your convenience in accordance to the terms.
Alterations & adjustments such as ring sizing, will be made at balance payoff. Most can be done the same day. Refunds may be subject to a restocking fee.
Expired layaways will receive an in store credit for monies received.
Gift Certificates:
Osborne Jewelers offers gift certificates in any denomination.
Returns & Exchanges:
Most returns & exchanges are accepted within 30 days of purchase.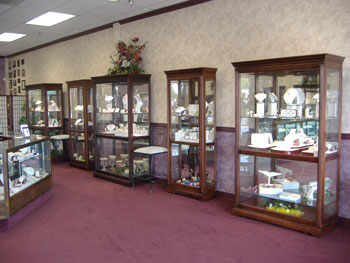 Refunds:
Refunds are accepted within 30 days of purchase. All refunds must accompany the merchandise, "in new condition", and a copy of your receipt.
No returns or refunds on Estate and Clearance items.
Refunds are subject to restocking fees if alterations have been performed, and/or if the item needs polishing.
Diamond Inspections:
We recommend every 6 months you should bring to us your diamond jewelry and have our jeweler inspect the prongs to help prevent any possible damage or loss of your gemstones. This inspection service is free.
Appraisal:
We are happy to provide you with an insurance appraisal on your purchase free of charge. Our appraisals are performed by our Certified Gemologists trained by the Gemological Institute of America (GIA).
Custom Work:
All custom jewelry is nonrefundable, and requires a 25% nonrefundable deposit before the work begins. Full payment upon receipt of custom work will denote the client's complete satisfaction.