About Us
The Victorian era ushered in a new love for beautifully crafted jewelry.
Queen Victoria, jewelry and fashion icon, was abundantly adorned with the finest jewelry. From diamonds and sapphires to gold and silver, the precious gifts she wore shaped the way weddings and special occasions are celebrated.
A century later, Osborne Jewelers opened its doors in the west valley. For over 25 years, Osborne Jewelers has been home to a handful of carefully selected masters of the jewelry trade.
Through the doors one can find friendly staff and expert repairmen among the wide selection of jewelry that suits the style of every individual. Osborne Jewelers is built on integrity and will always be dedicated to offering fair and long-lasting jewelry services.
Located in Goodyear, Arizona, Osborne Jewelers has on staff; six full time jewelers and a full time Horologist (watch repairman).
The husband and wife team of Ken and Joanne Osborne keeps the store running strong. Ken is a Graduate Gemologist, Custom Design Specialist, and Appraiser. He works with customers directly as well as behind the jeweler's bench. These days, Joanne works behind the scenes for the business taking care of the marketing, inventory, décor and finance. She is very active in the community sitting on the board of directors for the Abrazo West Hospital, the Homeless Youth Connection, and is an elected Goodyear City Council Member.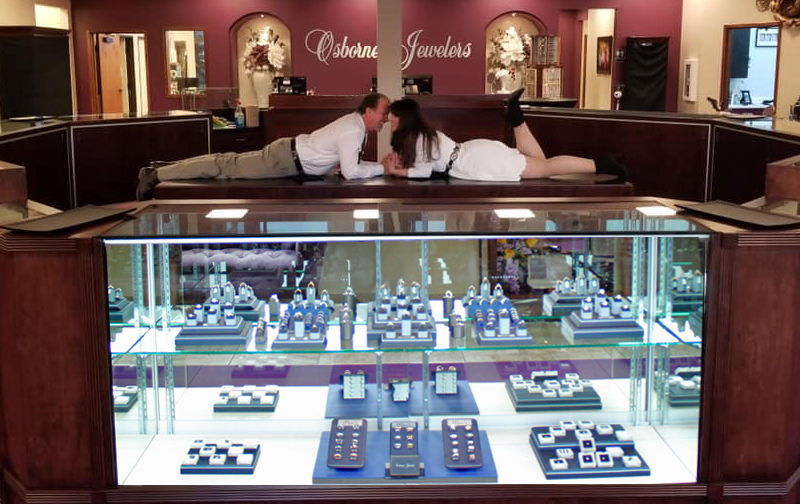 Ken & Joanne Osborne
Osborne Jewelers carries an extensive inventory, featuring some very special designers such as Frederic Duclos, Royal Jewelry, LeVian, Pandora, Diadori, and Galatea Pearls. Osborne Jewelers also has many one-of-a-kind items and unique settings. If you see a setting you like but would rather have a different stone, one of our jewelers can expertly change it.
We handle refurbished Rolex's and Osborne Jewelers signature watch line. Our sales staff can help you find that special gift item you are looking for. You will always be satisfied knowing that we will strive to answer any jewelry question you may have.